We provide specialized services in the FM industry covering residential, commercial, governmental, medical centers and hospitals.
SAMAYA demonstrated its ability and professionalism in the implementation of the mega projects in Saudi Arabia. This drove SAMAYA management heavily invest in the FM division to serve a wide variety of businesses across all industries performing at a global standard resulting in high client satisfaction.
Our the Integrated Facility Management Division manage the unification of all facility management contracts and internal strategies under one system and management team. The consolidation simplifies day-to-day operational management and creates better oversight, communication, and efficiency.
Our main goal in our Facility Management Division is to increase the productivity and safety levels of assets and facilities. To achieve this, we start by optimizing the entire maintenance cycle and gaining greater control of all processes through a full Integrated Facility Management set in place.
In order to optimize the cost structures of our
customers, it is necessary to reduce the number of costly repair actions. Therefore, our specialists analyze data for Preventive and Predictive
condition-based maintenance, which enables our team to plan maintenance measures based on time spans and meter readings.
SAMAYA IFM Team of experts ensures the regular and routine maintenance is precisely performed on physical assets to reduce the chances of equipment failure and unplanned machine downtime that can be very costly for maintenance teams and facility managers.
For SAMAYA IFM team to deliver effective
preventive maintenance, it is accurately planned and scheduled based on real-time data insights, often using software like a CMMS.
We establish efficient systems for the maintenance & management of our client's facilties & equipment.
– We provide adequate response towards resolving unscheuled issues that arises.
– Corrective maintenance orders are typcaly initiated when an additional problem is discovered during a separate work order.
– If our team of experts spots an issue during an emergency repair, as part of a routine inspection or in the process of conducting preventive maintenance, that issue can turn into a corrective maintenance order.
– That corrective maintenance task is then planned and scheduled for a future time.
– During the execution of corrective maintenance work, the asset is repaired, restored, or replaced as needed.
– Our on call team in each and every project support all team members within all projects for any emergency call to shorten the time of the failure and ensure that the asset is fully functional again.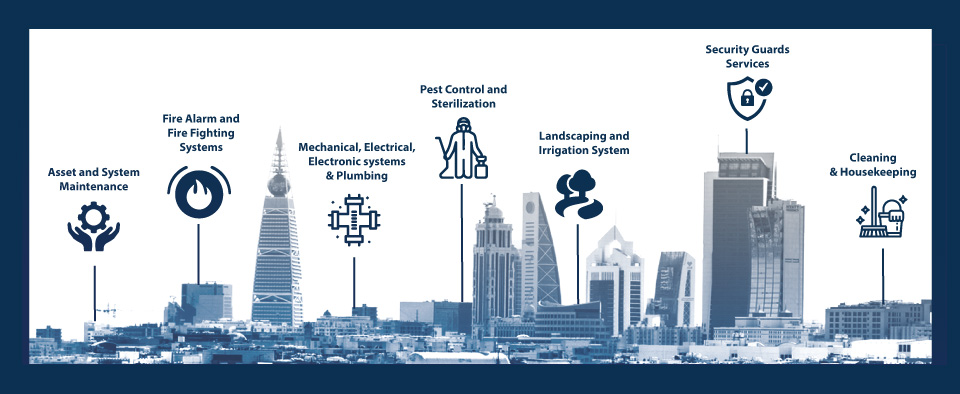 As experts, our Facility Management team of experts operates and maintains industrial, commercial and residential facilities through a clear and well- developed PPM with innovative and effective solutions that allow our clients to ensure a long life of the assets and discover optimization opportunities throughout the business cycle.